<![if !vml]>

<![endif]>
Your Wedding Day is the first day of a new beginning in your life, so make sure it is full of all the dreams you have envisioned. First Let us say congratulations and may life's blessing lead your marriage into many years of happiness. As you approach this most exciting time, remember this day only happens once, so don't sell your memories short. Sound Entertainment can help provide those dreams that will last a lift time.
When you book with Sound Entertainment we will provide you with a Sound Entertainment Wedding Planner which will help you in the unique planning our your reception. This Planner is packed full of ideas, song suggestions and material to help you plan the best wedding of the year.
We help with all aspects of the Wedding Reception from. To help your reception flow smoothly we help with all aspects of the Reception. The include some of the following Items:
Ø Grand Entrance for
The Bridal Party or just the Bride and Groom.
Ø Cake Cutting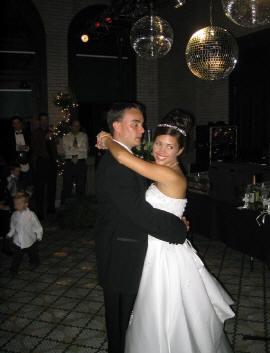 Ø Toast
Ø First Dance
Ø Father / Daughter & Mother / Son
Ø Bridal Party Dance
Ø Getting the Party Started
Ø Throwing the Bouquet of Flowers
Ø Getting the men together for the
throwing of the Garter.
Ø And many more Special activities that
take place throughout the evening