USED Audio, Lighting and Transporting Equipment
The following Sound and Lighting equipment is available for sale. All this equipment has been tested and in working orders. Some notations have been made where some equipment may needs some additional adjustments or repair.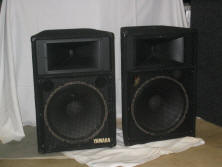 Yamaha S115V Speakers 2 way 8ohm Speakers 500 Watts Pgm and 1000 Watts Peak
The Yamaha S115V represents the latest evolution in the Club Series speakers. This 15-inch 2-way enclosure is great for PA or dance music playback systems. It has a big 500 watt power capacity (1000 watts peak @ 8 ohms) and includes a 15创 woofer and a 2创 titanium high-frequency compression driver. The trapezoid-shaped box design is finished in rugged black carpet with heavy duty handles and hardware. It has a built-in pole socket on bottom for use with an optional speaker stands. The larger enclosure provides improved low-frequency performance and the updated drivers mean higher power handling. Redesigned crossovers, a stronger grill and a Speakon and 1/4创 connector round out the improvements. With professional features, excellent sonic performance and great value, the Yamaha Club Series loudspeakers deliver premium quality night after night.
Features:
Larger enclosure for improved performance
15创 woofer
2创 titanium tweeter
Frequency response: 55Hz - 16kHz
Power handling: 500 watts program; 1000 watts peak (@ 8 ohms)
Connectors: single 1/4创; single Speakon
Sensitivity: 99dB
Heavy duty front steel grill
Sound dispersion: 90癶 x 40皏
Size: 19创 x 28创 x 15创. Wt. 60.5 lbs.
Price 225.00 each

Slim Line DJ Coffin Holds two Turntables, and a mixer , Includes 1 Handle, Quick Latches and a removable lid, It is Electrical Ready. The Corners are Reinforced.
$50.00

DJ Coffin "Tuff Kases" Holds two Turntables, mixer and a CD Controller, Includes 3 Handles Quick Latches and a removable lid, It is Electrical Ready & the Corners are Reinforced.
$80.00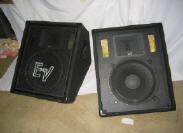 The FM-1502Er is ideal for situations demanding great punch in monitor speakers. These have a 15" woofer and a great Horm speaker..Power Handling is 300w Long term and 1200 watts Short Term with SPl at 1 Watt/1 Meter: 102db. Works great
I have two. available $315.00 each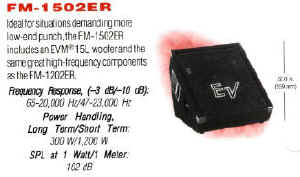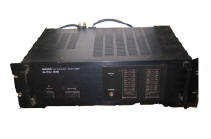 Nikko Alpha 220 Power Amp. This amp would make a great monitor amp. Has connections for A & B speaker set. Can also be used to drive speakers in various zones. Works great
Price $325.00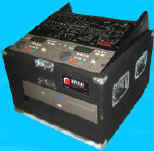 Odyssey's Pro Mixer Combo Case features recessed hardware Steel corners and is built extra deep to accommodate deeper electronic gear. 12 space angled top and 4 space bottom. Great for combination as shown Like New
Price $185.00

Denon DN720R Precision Audio Cassette Recorder
-
19-inch rack-mountable.
- Amorphous Head - The advantage of the amorphous head is that it improves the high frequency dynamic range by as much as 2 to 2.5db at 14kHz.
- Dolby HX Pro Headroom e...xtension system.
- Tape speed control of +/- 12%.
- When switched to the variable speed mode, a rotary know allows speed change of plus or minus 12%.
- Musicians can change the key of a song during playback and DJs can change the tempo of dance songs for beat mixing.
- The center click position is normal speed.
- When the ""Tape Speed"" button is pressed, normal speed is provided regardless of the knob position.
- Memory Rewind (Return-to-Zero) - Once you search a cue point, press the memory button and reset the tape counter, the player stops at zero if you rewind the tape.
- FL Peak Hold Level Meter.
- Non-slip Reel Drive - The highly reliable friction reel drive produces optimum tape tension during fast forward and rewind, as well as well as stable tape travel during playback and recording.
- Precision Music Search.
- Auto Tape Selector (Normal/Cr02/Metal).
- Precision tape counter (Real Time Tape Counter).
- Optional Wired Remote Control (RC-700).
- Bias Fine Adjust 0 Separate bias fine-adjustment knobs for the left and right channels are provided on the front panel for convenient fine tuning of recording bias level, for flattest response with virtually any tape type.
- MPX Filter for FM stereo recording.
- Tape length selector for precision counter display.
In Excellent condition
Works great
Price $265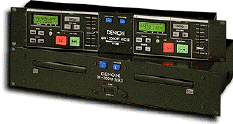 Denon DN2000F Professional CD Player. LCD active matrix readouts show elapsed time or time remaining to within fractions of a second. Can pause anytime during track & move forward or reverse to desired area or cue to beginning. Fast 0.01 second start is an improvement over previous version. Adjustable slide pitch control with pitch bend. Standard 19" rack mount. Remote unit has long extension cord so it can be mounted near mixer or turntables or set on console if desired. Manual Included!
Price $275.00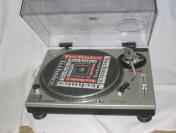 Technic SL-1200 MK2 Quartz Turntable. These are the work horse turntables for the vinyl DJ. Includes the Dust-cover and Technic's slipmat. In excellent condition and works great.
Price $225.00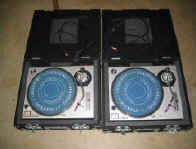 Two Technic 1200 MKII Turntables in Roadcases include Stanton Trackmaster Cart and Slipmats.. Roadcases have recessed handles, reinforced corners use Heavy Guage steel, twist lock latches and removable lids. These are in great condition and have been preserved in these cases.
Price $395 ea

Tripp Lite 12" Police Beacon This is a High End DJ Police Light with Two Par 36 Lamps inside. This is not your toy looking light that so many DJ companies are attempting to sale now days. This light will bring amazement to the audience that perform for.
Price $125.00 each


12" Professional Grade Mirror Ball and AC Motor.
Price $30